To become wiser and change the future, we must dare to face the past without censoring it.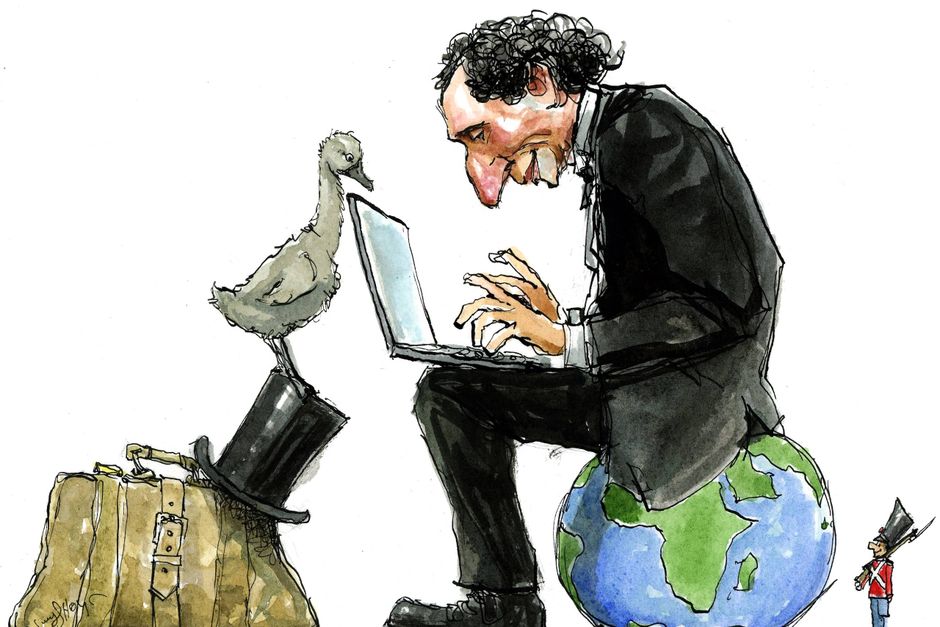 Regularly, literary writers have their texts dragged through the woke movement´s machinery. This time, the British writer Roald Dahl was the target, but when will it be Denmark´s national icon, HC Andersen? Drawing: Rasmus Sand Høyer
My son and I are reading "HC Andersen's Fairy Tales & Histories + Complete collection prefaced by Johannes Møllehave" from 2000. The goal is to work through the book this year. We read a few pages every day and talk about the stories and about Danish words he doesn't know, such as mill wheel, horse carriage, galoshes and wadsack. It is an excellent way to expand his Danish language skills and for his cultural understanding not to mention the quality time I get with him. We just finished "The Little Mermaid," which my son dryly noted was "very different from Disney's version."
My kids loved reading Roald Dahl's books when they were younger. The British author with Norwegian heritage is best known for "Charlie and the Chocolate Factory" but published a total of 49 books for both children and adults. My daughter especially loved "The BFG." Roald Dahl was anti-Semitic, racist, and a misogynist – traits I actively teach my children are unacceptable.
The way Roald Dahl described gender and obesity tells us something about him and his time that we can learn from today when talking to our children about how to treat each other.
There has recently been an enormous public backlash after Puffin, the children´s imprint of Penguin Random House, publisher of Roald Dahl's books, announced that they would change the author's language to make the books more inclusive. The publishing house hired the consulting agency Inclusive Minds, and it was decided that words like "fat" and "ugly" were to disappear, and content that had to do with gender, race, ethnicity, mental health, appearance, and weight would change. "Words mean something," the publishing house wrote. "The fantastic world of Roald Dahl can transport you to different worlds and introduce you to the most wonderful characters. The books were written many years ago, and we regularly edit the language to ensure that it can be enjoyed by as many people as possible.'
The outcry was substantial – from literary figures such as Salman Rushdie, from the British royal house, and from freedom of expression groups, such as PEN America. So loudly did people protest, that the publisher pulled back and announced that the books would be available both in their edited editions and in their original form. The censorship controversy hits directly into a groping zeitgeist, where the fear of stepping on someone's toes risks introducing self-censorship and compromise freedom of expression.
Where do we draw the line if we start canceling books and make them unavailable? Censoring or making things disappear because times have changed is a dangerous direction. Shouldn't large parts of the Bible then be cancelled as well? How do you accept the art of the past when it is based on views we have moved away from? How do we make room for literature written in another time when the content holds viewpoints, we now find inappropriate?
We are finding ourselves in a time of change. Most of us can remember a world that looked somewhat different from the global society we live in today and this forces us to grabble with this topic.
That reality is, that we must find a way where diversity is embraced and where it is simultaneously ok that literature does not satisfy all viewpoints, skin colors, religions, or body sizes. Because if we start introducing censorship, if we start regulating what our kids and youth have access to – then we are moving frighteningly close to totalitarian societies we pride ourselves of being far removed from.
Should Salman Rushdie's "The Satanic Verses" disappear, should books written with a British imperialist worldview? The balance is difficult – because what kind of literature is ok today if we simultaneously advocate freedom of expression and the importance of learning from the past as we move forward?
I don't like seeing women depicted as cashiers if they could be research scientists or CEOs, as they now are in the edited Roald Dahl work, or to see someone being called "enormously fat." The way Roald Dahl described gender and obesity says something about him and his time that we can learn from today when we talk to our children about how to treat each other and how a short time ago people looked at and mocked women and minorities. But the reactions to changing "mother" and "father" to "family" and the elimination of "girls and boys" to "children" and that phrases like "beautiful light skin" has been changed to "beautiful smooth skin," shows that the woke movement is not backed by the general population.
When HC Andersen wrote "The Little Mermaid," Denmark looked different. Denmark was a homogenous country, a country where Muslim headscarves, dark skin, and a diverse cultural population were not a natural part of the cityscape. If you wanted to experience the big world, you had to do like Andersen and go outside the country's borders by horse-drawn carriage. The ideal of beauty was fair skin, blue eyes and blond hair.
And it is that reality, Andersen writes his stories from. Not the global world that surrounds us today. Therefore, the little mermaid is "the most beautiful of them all, her skin was as clear and bright as a rose petal, her eyes as blue as the deepest lake."
Is this problematic? Is it something that should be cancelled the next time HC Andersen's collected works are republished? No, because if we erase the past, we erase the possibility of conversations with our children about where we come from, what beauty is, how people before us were viewed. And we delete the possibility of taking a stand and making conscious choices based on a reflection on the world in which we find ourselves.
Hvornår begynder de at rette i H.C. Andersens eventyr?
For at blive klogere og ændre fremtiden er vi nødt til at turde se fortiden i øjnene uden at censurere den.